Philosophies in the Islamic World: Then and Now – A Collaborative Lecture Series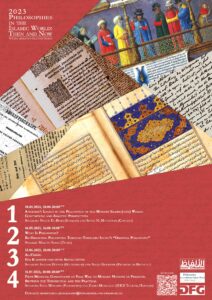 Lecture series jointly organized by the scholarly Networks LOGOS+ and Philosophy in the Modern Islamic World
Despite an increase in research in the field, philosophy in the Islamic World is still largely studied as a historical phenomenon, with its study geographically limited to Middle East area studies. However, philosophical thought originating from the Islamic world is not restricted to the past nor exclusive to a particular region, and it is not disconnected from other intellectual traditions.
To promote a genuine encounter between different perspectives on various currents of Philosophy in the Islamic World, this lecture series aims to create a space for scholars and philosophers from Japan, Iran, Lebanon and Germany to present their thoughts and to engage in a transcultural, multifocal dialogue on a specific topic in the field. By bringing together perspectives from and on different regions, epochs, and research approaches, the series seeks to highlight pathways of re-reading Islamic intellectual traditions through the lens of new questions and challenges, exposing hidden potentialities and foregrounding its contemporaneity.
Upcoming lectures in the lecture series "Philosophies in the Islamic World: Then and Now":
18 April 2023, 6 – 8 pm: Avicenna's Legacy in the Philosophy of the Modern Islamic(ate) World. Continentaland Analytic Perspectives. Speakers: Nader El-Bizri (Sharjah) and Seyed N. Mousavian (Chicago). [Details]
16 May 2023, 4 – 6 pm: What is Philosophy? Re-orienting Philosophy through Toshihiko Izutsu's "Oriental Philosophy". Speaker: Makoto Sawai (Tenri) [Details]
13 June 2023, 6 – 8 pm: Al-Fārābī – Ein Klassiker und seine Aktualitäten. Speakers: Sarhan Dhouib (Hildesheim) and Nadja Germann (Freiburg im Breisgau)
11 July 2023, 6 – 8 pm: From Medieval Conceptions of Free Will to Modern Notions of Freedom: Between the Theoretical and the Practical. Speakers: Saida Mirsadri (Paderborn) and Zahra Mobalegh (Tehran, Harvard)
The lectures will be held via zoom.
Venue: Zoom
Please consult the flyer and the links for more information on the venue and on other talks in this series.