Workshop – The Political in Philosophical Discourses of the Modern Islamic World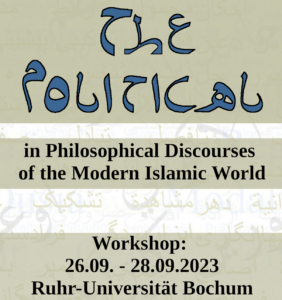 From 26th to 28th of September the scholarly network Philosophy in the Modern Islamic World will hold and host the workshop on "The Political in Philosophical Discourses of the Modern Islamic World" at Ruhr-Universität Bochum. Keynote and Panel discussion – on site and via live stream – are open to the public.
About the Workshop
Philosophy in the modern Islamic World as well as on a global scale is not situated in a neutral thought space, rather, it takes place on a fundamentally and constantly contested and contingent ground: the political. The political constitutes the conflict zone in which actors from the Islamic world and the Global North take part in complex processes of (re-)negotiating the foundations of politics, identity, and the legitimization of socio-political inclusion.
Via a series of case studies, this workshop looks at different ways in which intellectuals and philosophers from the modern Islamic world intervene in this zone of the political. It asks about their conceptions and strategies of critique, how they interact with their peers and with activists from the Islamic World and from the Global North and how they approach major concepts such as freedom, the secular, the Enlightenment, the good life, equality, or citizenship. Furthermore, the workshop addresses more theoretical reflections such as how modes of subjectivation influence the implicit presuppositions at work in the mentioned concepts as well as in what ways thinkers re-evaluate different archives of knowledge (Islamic, Western, or otherwise) and how
these discourses are shaped by the political. Overall, the workshop explores ways in which reflections on the political in relation to concrete philosophical debates may open up pathways to develop the research field of Philosophy in the modern Islamic World and envision transregional and decolonial academic interaction in the field.
Organised by
Roman Seidel (Arabic and Islamic Studies, Ruhr-Universität Bochum)
Kata Moser (Arabic and Islamic Studies, Georg-August-Universität
Göttingen)
Date: 26th–28th of September 2023

Locations: HGB 20 (Ruhr-Universität Bochum, Universitätsstraße 150, Building HGB) and CERES (Universitätsstraße 90a, 4rth Floor "Ruhrpott")

The keynote lecture and the public panel discussion are also broadcasted in a live stream, see here for more information on these events.